Bridal Packages
It's the most important and special day of your life and you want to look your very best, as will the rest of your bridal party. That's why I've designed some packages to suit you as an individual, groom-to-bes, bridesmaids, mum's and future mother-in-laws for your big day. Why not browse my treatment packages page as ideas for hen parties or purchase gift vouchers as a treat for your bridesmaids? I also offer a 'Holiday Prep' package, great for your honeymoon!
Bridal Party Spray Tans
On a day when your photograph will be taken hundreds of times I'm sure you will want to look radiant on all of them and a spray tan can help to achieve that. Of course, it is up to you, but a dark (and often consequently orange looking tan if you choose a shade much darker than your natural tone) just does not look good with a white wedding dress! I'm certain the effect that you will be aiming for is a light, golden hue, that is subtle but gives a healthy glow with the added bonus of looking slimmer and more toned and giving you a brighter smile due to your teeth appearing whiter! This is why I would suggest that you opt for a lighter shade of my spray tan and please book in for a trial tan to make sure that the shade is perfect for you.
Don't forget the groom and bridesmaids though! Yes, you want to look fab on the day, but make sure your new hubby and the girls don't look pale next to you when you look back at the wedding album!
Offer! Book in for a minimum of three of the bridal party members for a spray tan at just £13 and the bride will receive hers free, or book in for six party members or more and the groom will get his free too!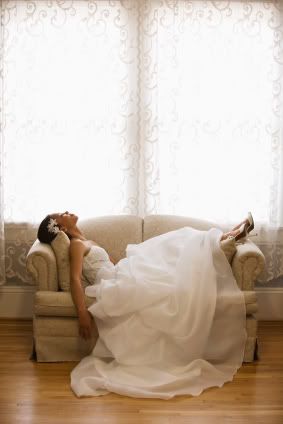 Relax ready for the big day.... After all the stresses and strains of organising the big day, why not have an afternoon of relaxation so that you can lie back and drift away for a while with a full body hot stone massage. Feel your stresses melt away with this deeply relaxing aromatic massage, add to this an aromafacial and you can enjoy an indian head massage for half price! The total price for three hours of bliss is just £51!
Beautiful Bride Book in for a Luxury Manicure, Luxury Pedicure and Inch Loss Body Contour Wrap (full body) and you can enjoy a Thai Spa Facial worth £18 for free!
Mum's Treat Make your mum's feel special too in the build up to the day. Book them in for an Anti-ageing facial, Express mani and pedi and they can enjoy a soothing back, neck and shoulder massage for free (worth £10!)
Groom Offer / Best Man*
Even if your hubby-to-be isn't one for a beauty regime, I'm sure for today he'd make an exception! Why not book him in for a deep tissue back massage followed by an intensively moisturising manicure, no polish though!! He can enjoy both for just £20!
Ring Ready Get your hands ready for those close-up shots and close inspection of the rings with a Luxury manicure for both of you. You'll both leave with beautifully smooth, moisturised hands with elegant polished nails for you and neat, smooth, buffed 'til they're squeaky clean nails for him! Book in together and he can enjoy his treatment for just £5!

*Please note that I usually only treat women, however I am happy to carry out the groom's / best man's offer as long as there is another female present in the house. Sorry for any inconvenience that this may cause.